For Students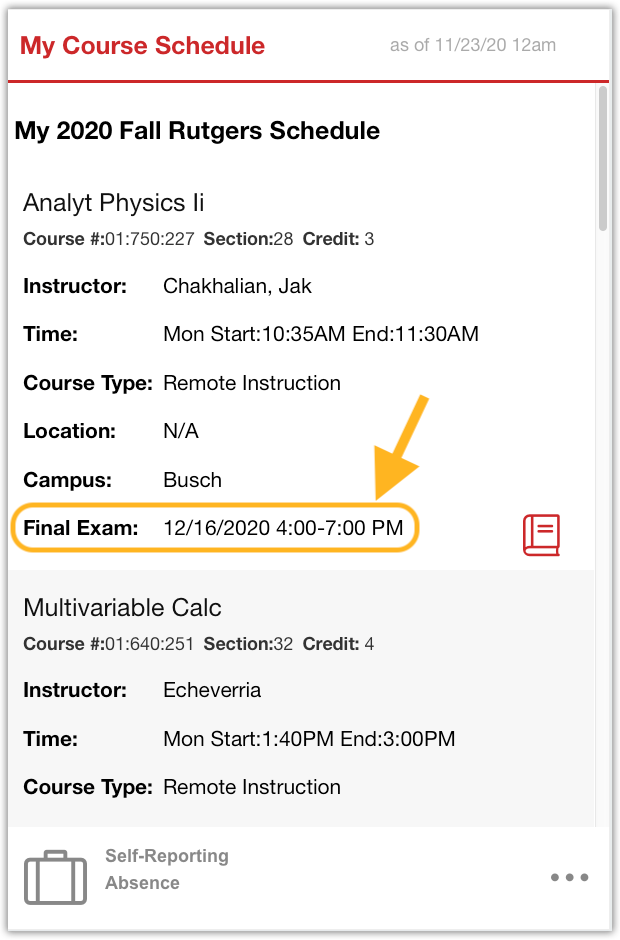 Rutgers–New Brunswick students can now view their final exam schedules in the My Course Schedule widget on their myRutgers dashboard, which replaces the former final exam schedule website.
To view final exams for individual courses, students can:
Navigate to my.rutgers.edu
Login normally through CAS authentication
Go to the My Course Schedule widget
On the Final Exam line, you will find one of the following options:
The date and time of the exam
By Arrangement
No Final Exam
Multiple Exam Times. Please Contact Instructor
N/A (If a course's final exam has not been submitted to the portal.)
For Faculty and Staff
Faculty and staff members can search for exam times/schedules for individual courses using either the course subject code and optional course number or using the course index number by visiting: https://finals.rutgers.edu
The final exam grid is also available each semester online.
For Student Advisors
Student advisors can review potential student final exam conflicts by visiting https://finals.rutgers.edu and using the "Login" button at the top right of the page. After using the CAS authentication, advisors can search using either course information or student information to find final exam times/schedules. If you are a member of one of the Rutgers–New Brunswick academic advising offices and are unable to access the site using CAS authentication, please email Amy Brainard at: amy.brainard@rutgers.edu