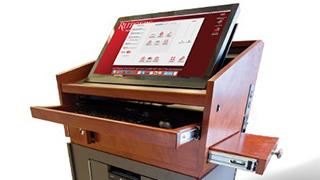 The Digital Classroom Lectern, or DCL, is the newest addition to the family of Digital Classroom Services systems. Born out of the need to provide our standard classroom technology in smaller classroom environments, the DCL employs a reduced footprint so that it takes up less valuable teaching space. Despite its small size, the Lectern packs a big punch, with a built-in Mac computer, Blu-ray player, and VGA/HDMI connections for portable devices. To accommodate the needs of different instructors, the Lectern is also height adjustable while the touchscreen can be angled forward or backward to reduce glare and improve sightlines.
With the installation of DCLs this summer, DCS now has systems for all of the different types of general purpose classrooms we support. While DCLs are the new standard for small classrooms, seminar rooms will be equipped with Digital Classroom Flip-Tops. Large classrooms will be equipped with Digital Classroom Podiums. Lecture Halls and Auditoriums will receive Digital Classroom Podium As. Meanwhile, Active Learning Classrooms are equipped with Collaborative Instructor Hubs and Immersive Synchronous Lecture Halls have Immersion Lecterns. Because all Digital Classroom System adhere to a consistent design scheme and are controlled using Rutgers Room Control, instructors can expect to have familiarity with their technology, regardless of where they teach.
Learn more about the Digital Classroom Lectern, including where it may be found, on the DCL page.